Ordering Information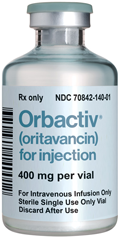 Orbactiv® (oritavancin) 400mg per vial
How Supplied
Three ORBACTIV® vials are packaged in a carton to supply for a single 1200 mg dose treatment.
ORBACTIV® is supplied as sterile, white to off-white lyophilized powder equivalent to 400 mg of oritavancin in a single use 50 mL clear glass vial.
Weight Carton
0.22 lb/100 g
Dimensions Carton
5.125 x 2.125 x 3 in (LxWxH)
Storage
ORBACTIV® vials should be stored at 20ºC to 25ºC (68ºF to 77ºF); excursions permitted to 15ºC to 30ºC (59ºF to 86ºF).
Ordering
ORBACTIV® is a wholesaler stocked product. Please use standard ordering procedure through your wholesaler. If ORBACTIV® is not available at your wholesaler, please contact Melinta Direct for drop ship. Please feel free to contact Melinta Direct Customer Service Information with any questions at
844-529-8993.